Postie's Path upgrades make path better for walkers
, by Coigach & Assynt Living Landscape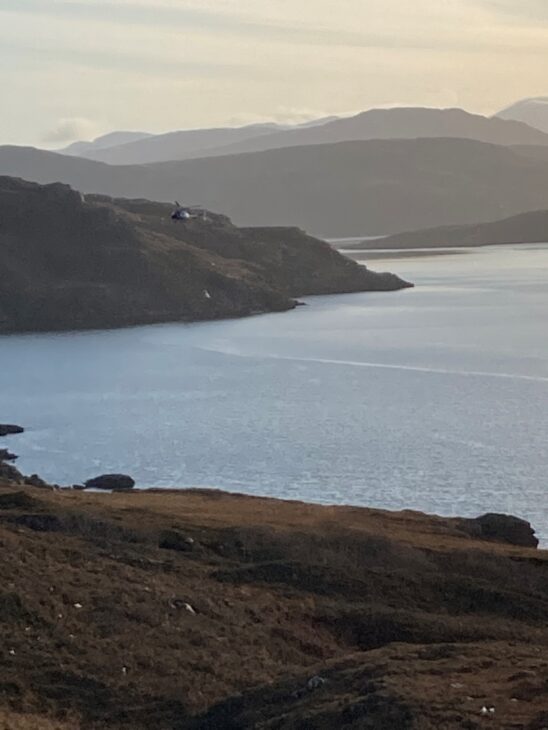 by Michelle Henley, Scottish Wildlife Trust Reserves Project Officer
A centuries-old route across the remote hills of Coigach, once used by the hardiest of postmen, was recently given a major upgrade to make it safer for all kinds of walkers for many years to come.
The Postman's path is a popular route which skirts the coastline around the Scottish Wildlife Trust's largest wildlife reserve, Ben Mor Coigach.  Thanks to funding from the National Lottery Heritage Fund, through CALLP, and from Ramblers Scotland, the Trust has been able to lead a project to make significant upgrades to the path.
The Postman's path or 'Postie's path' stretches for about 7 miles/11 km along the coast between Achduart and Blughasary, taking in magnificent coastal views. It is one of three traditional routes that people used to take around Ben Mor Coigach – or around 'the rock' (A'Chreag) which is the traditional name given to the hill.
The path was named in recognition of the postmen who 'took the rock' twice a week, to bring mail to and from the Coigach communities in the 1860s.  It is now a much loved and popular walk for locals and visitors. Some sections of the path were quite degraded and needed considerable repairs to improve access and safety for people while still protecting important habitats and landscape features of the wildlife reserve.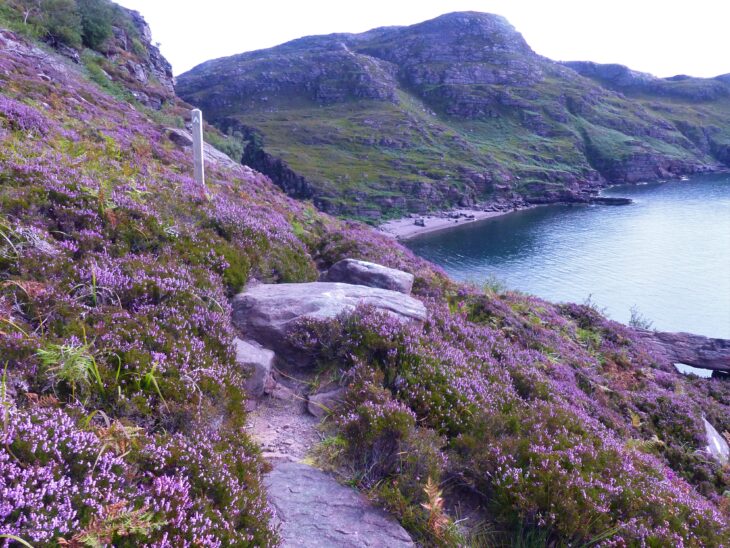 The path improvement work was completed by ACT Heritage and managed by the Outdoor Access Trust for Scotland. Local stone was used for the repairs to be in keeping with the landscape and this had to be transported by helicopter to key areas along the path.  A number of waymarkers were also airlifted and installed to help guide walkers. Scottish Wildlife Trust has installed two interpretation panels to help visitors to discover more about this fascinating area.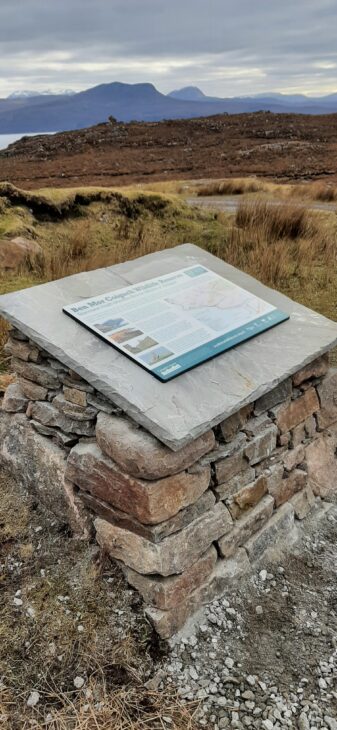 The work forms part of a suite of CALLP projects to improve access around the area, including upgrades to the Suilven and Quinag mountain paths, woodland walks, and guides and interpretation to help people get the most from their experience.
Trust staff and volunteers will continue to look after the path and carry out important maintenance work whenever it is needed. The Postman's Path takes you through a wonderful landscape full of local history and abundant wildlife. We are delighted with these footpath improvements which mean the route is now safer and easier for people to navigate.  But as with all upland paths, it is still important that walkers are properly equipped for a full mountain day when taking this route.
---
Coigach & Assynt Living Landscape