Experienced designer wanted for Suilven Path project interpretation work
, by Coigach & Assynt Living Landscape
Experienced designer needed to develop and produce interpretation board(s) for the honesty shop at Glencanisp
The Assynt Foundation (AF) and John Muir Trust (JMT) are working together through the Coigach & Assynt Living Landscape Partnership (CALLP) Scheme to repair and upgrade the path to the community owned hill – Suilven. This is a two year project (2017-2018) and we are keen to produce interpretation of the path work to 'tweak' people's interest in Suilven and the work being undertaken (including the associated community, culture, geology, wildlife etc.)
We are looking for a designer to produce and install interpretation panels to tell the story of the path work and provide information about the Assynt Foundation and the environment, so that visitors can better appreciate the area. The panels should also direct visitors to other sources of information about the path project (AF, JMT and CALLP) and encourage donations to the ongoing work of the Assynt Foundation.
Interested parties should complete the application form and return it to: Chris Goodman, c/o Coigach & Assynt Living Landscape, 1 Old Coach House, Lochinver, IV27 4LE or electronically to chris.goodman@johnmuirtrust.org by Friday 13th July 2018.
Applications will be assessed by John Muir Trust, Assynt Foundation and CALLP staff and applicants will be informed of the outcome of the application at the earliest opportunity.
Download further information and Application Form here
Find out more about the Suilven Path Project here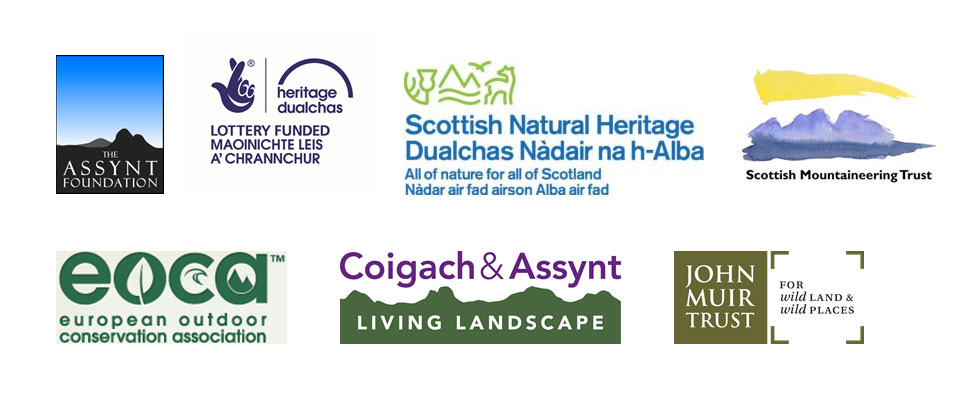 ---
Coigach & Assynt Living Landscape