we've done it!
, by Coigach & Assynt Living Landscape
At last, the wait is over – and we've done it!  The Heritage Lottery Fund has recognised the strength of our application and given us a Stage 1 pass – so we're well on the way to our grant of £3million.  This represents a big investment in the area and has attracted media interest – you might have heard about it on the BBC news. It's very exciting!
This was the most over-subscribed Landscape Partnership funding round HLF has ever had, and ours is by far the biggest area with the smallest population – and we have been awarded the maximum grant……so many superlatives. We know it's a special area and a special project – so it's great to have that recognised!  And in a way which will bring long-lasting benefits to local communities, wildlife and heritage.
So, many thanks to everyone who pulled together and endured seemingly endless meetings and flurries of emails demanding input – I hope you now think it's all been worth it!  Viv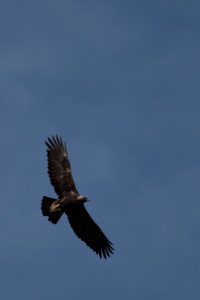 golden eagle (@ Andy Summers)
---
Coigach & Assynt Living Landscape