crofting students visit the nursery
, by Coigach & Assynt Living Landscape
Glencanisp Lodge provided a spectacular location for the Scottish Crofting Federation's Entry Level Induction Course on the 13th/14th  October.  Local Course director, Clive Sheppard pulled together a fantastic range of speakers including Bill Ritchie, one of the founding members of the Assynt Crofter's Trust, Russell Pursey of Elphin Rare Breeds Farm and Patrick Krause, Chief Executive of SCF.
The Lodge which is community owned by the Assynt Foundation hosted 22 people from many areas of the Crofting Counties who studied a variety of topics from CAP reform to animal health and welfare.  Miss Julie-Ann MacLeod of Lochinver provided a range of local, seasonal food some of which was home grown and much appreciated by the attendees after a hard day's study.
Pictured is Romany Garnett of Coigach-Assynt Living Landscape who provided SCF members with an informative tour of the Tree Nursery at Little Assynt where participants learned about tree propagation using locally-collected native seed.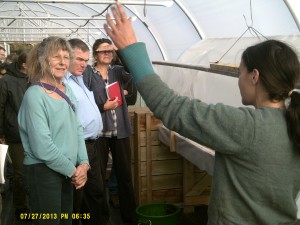 Crofting Entry Level Induction courses are run by the Scottish Crofting Federation as part of its Crofters and Small Landholders Skills for the 21st Century Programme (2013 – 2015).  Courses are open to anyone with an interest in developing skills relevant to running a croft or smallholding.  Further information and a programme of courses is available from training@crofting.org or on the website www.crofting.org
---
Coigach & Assynt Living Landscape