A Volunteering Thank You
, by Vickii Campen
Volunteering has been an integral part of the Coigach & Assynt Living Landscape Partnership, right from the very beginning. What makes us unique from other partnerships was the amount of volunteer community groups who signed up to support projects over the 5 years.
When I started my role in year 2 of the scheme there had already been a wealth of hours of volunteering from projects such as Clachtoll Broch who held excavation days for locals and archaeologists from near and far. It was clear that there were people who wanted to be involved in specific projects but also help the scheme more widely.
I started a monthly volunteer day which was great fun. Having a range of projects, meant that we could do a multitude of tasks from beach cleans to log clearance, species recording to path maintenance. There was something for all skills and to everyone's interests!  Alongside this there were other volunteer days run by myself as well as partner events for their projects and Little Assynt Tree Nursery days to help with growing the native trees for the planting schemes (these will continue, contact them directly!).
Getting out with locals, those with a link to the area and passers by who just wanted to join in was fantastic and I loved getting to know you all a little better. I would personally like to thank those who joined myself for volunteer events and anyone who has been a part of a project. It has been a real community effort driving CALL and I believe these connections between volunteers and organisations have helped strengthen partner organisations futures. Over the 5 years, you the volunteers, have accumulated 18,500 hours of supporting CALL projects and we cannot thank you enough for this. Without this valuable support our projects may not have been such a success! Such successes include:
300 tonnes of rubble removed in Clachtoll Broch excavations
9km of new pathways and maintenance
Over 1 tonnes of marine litter removed from remote beaches
283ha of new planted woodland
Thousands of species records that are now digitalised on the Assynt Field Club website
Reed and Bracken clearance at Achlochan to enhance wildlife diversity, uncovering the lochan
Although the CALL Partnership will come to an end this month, our partner organisations are working towards the future, and I urge you to get in touch with them directly to continue volunteer work within the area.
And if you did miss the conference, check out the volunteering highlights here: https://youtu.be/KX8AgljX8tM?t=272
Thank you and all the best,
Vickii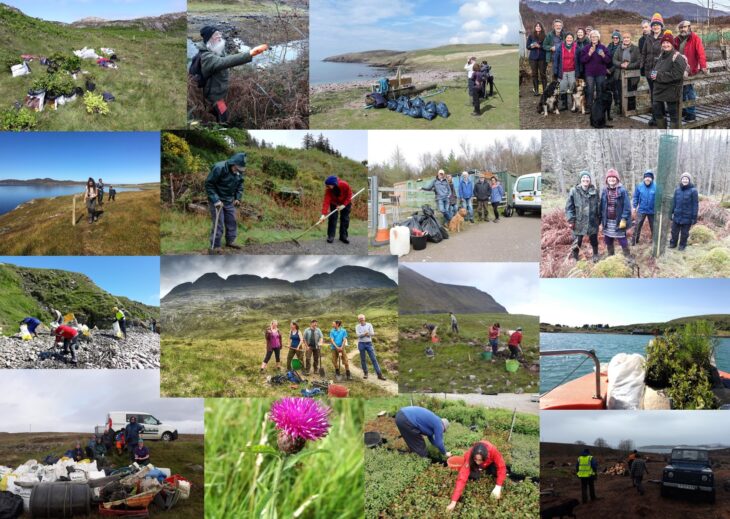 ---
Vickii Campen