The Making of a Children's Book
, by Coigach & Assynt Living Landscape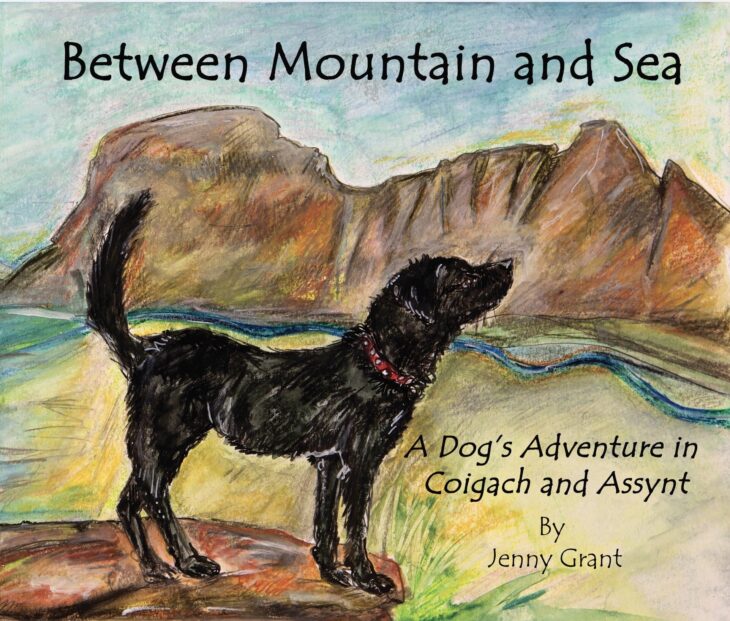 Celebrating the landscape and nature of Coigach and Assynt
By Jenny Grant, local author and artist of 'Between Mountain and Sea – A Dog's Adventure in Coigach & Assynt'
Quite a lot of my book making process involves procrastination, but much of this procrastination is in the form of walking, and this turned into substance for my new book, 'Between Mountain and Sea, A Dog's Adventure in Coigach and Assynt'.
The book is a culmination of many hours walking through my local landscape with my dog, Milly. Walking  – and looking and listening.  She often looks as though she fits in with the landscape, and the book uses her to represent a journey through habitats.
As part of the early stage of the process, I drew and photographed everything, from the landscape to muddy paw prints and sculptural rocks.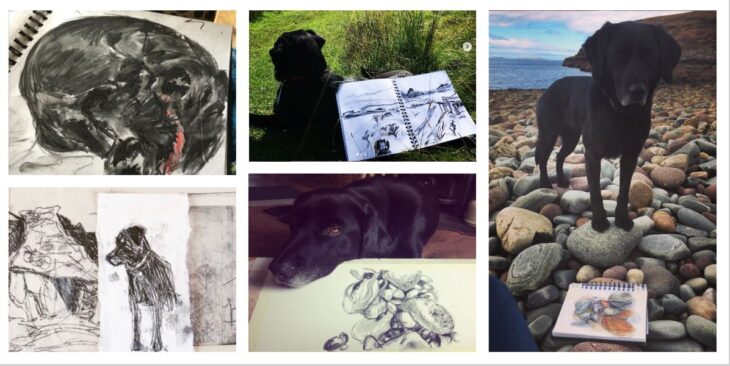 Once I pulled myself away from the outdoors, I needed some really bad weather for my next stage in the studio/kitchen table. I setup inside with all my materials around me, sharpened pencils and had the tidiest desk you have ever seen (yes, more procrastination).
For the artwork, first I made a very quick storyboard, so that I knew how many pages I needed, and gathered sketches and photos from my research. I then measured out all the pages, so I had my blanks ready to go. When it came to creating the artwork, I sketched out the scenes and then I worked in mixed media with ink, paint and pencils, quite randomly.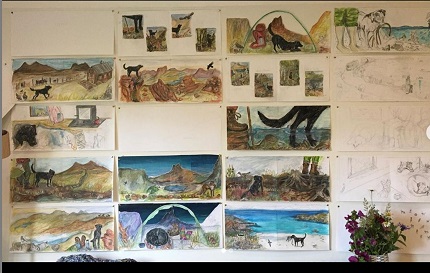 I tried to include as many animals and plants as possible, things I have seen in the area, without crowding it too much. There was a fair bit of artistic licence in seeing so much at the same time, but I wanted to give the impression there was lots of life in the different habitats.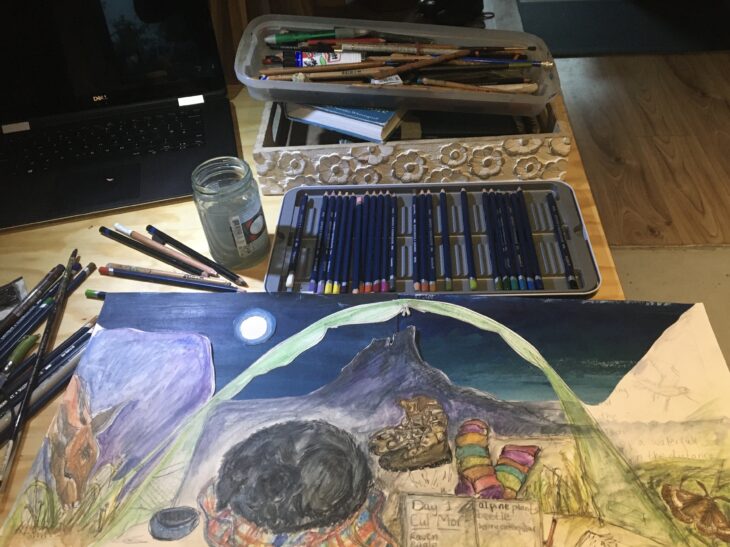 Some images were created more easily, some had to be redone or reworked and so it took longer than I thought it would. This book has 42 large pages, and it was hard to give them all the time they needed. I really enjoyed working on a large scale but when I finally finished all the artwork, I had the problem of getting them digitised.
Luckily, I received some help from local artist James Hawkins, who had the ideal set up to photograph the pages. I then spent many more hours editing. This was probably my least enjoyable part of the process as it just seemed time disappeared in clicks of the mouse. At this point, it was autumn 2020 and it felt like a long time since the beginning of the idea and being out roaming the hills with my dog. She mostly lay by the fire while I stared at the screen.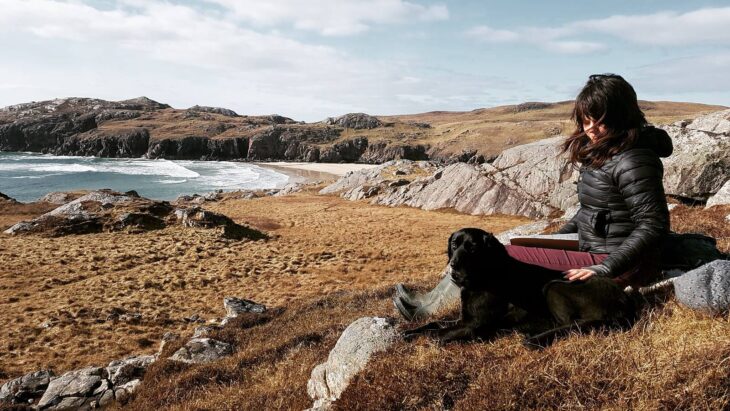 And then I had to write some words! Normally, I would write the story first and base drawings around the words but this time I completed the artwork first. I found this quite liberating in terms of the art production and I hope my aim of leaving most of the talking to the pictures has come from this.
During this digital phase, there was a lot of to-ing and fro-ing with different printers but eventually I found one, and when I had that pdf ready to send to them, there was a great sense of satisfaction and relief. I had now self-published the book and could do something else with my free time!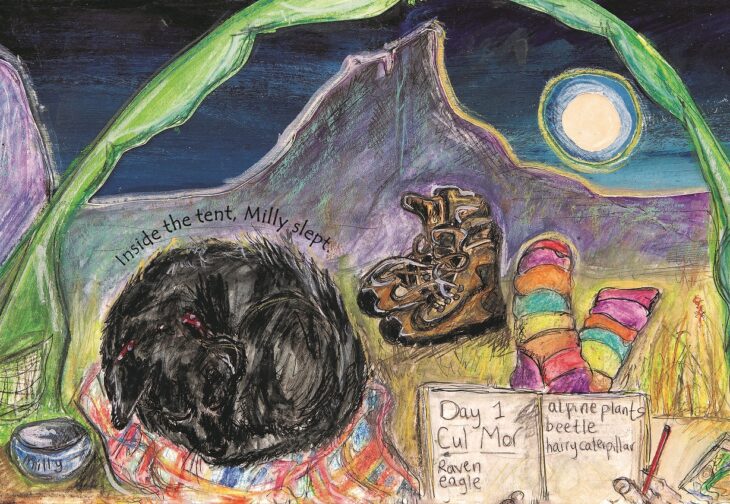 I really loved making the book and I want others (children and adults) to read it and feel they want to go out there and see what they can find. I want them to look a bit closer, to see the wee details but to feel the expanse of the landscape, to feel part of it, to look after it, to respect it and feel how small we are in relation to the rest of life. Where events and words are minimal, I hope that the pictures and animals that can be found as they go along, tell a story in themselves and are reminiscent of our special and beautiful area.
Thank you to Coigach and Assynt Living Landscape (CALL) project which, over the last four years has added great value to the area I work and live in. They have their own projects but also have a community grants fund for individuals and organisations which invites people to produce something that will be educational or add value and insight into the incredible area.  I successfully gained a small grant to help produce the book and so I am very thankful to CALL and their funders, National Lottery Heritage Fund and Nature Scot.
Thanks also to all my proof readers, and, of course, most importantly thank you to Milly the dog.
The CALL end of scheme conference takes place on 18 August where you can see a video of the making of my book. You can register for the free, online conference at https://www.coigach-assynt.org/coigach-assyntconference/
For more information about the book, please visit, www.jennygrant.co.uk and please send any questions to me to  jennygrantbookillustration@gmail.com
---
Coigach & Assynt Living Landscape