CALLP conference programme announced
, by Coigach & Assynt Living Landscape
With less than a month to go to our conference, we are delighted to announce a packed programme of expert speakers for the event, which will demonstrate how rural communities have been working together to achieve positive change for our landscape and its people.
The free online conference, on 18 August 2021, will be opened by Jo Pike, CEO of the Scottish Wildlife Trust, CALLP's lead partner. This will be followed by sessions on land management, paths and access; people, wildlife and heritage; and learnings and legacy.
The presentations include accounts of the amazing woodland expansion work that has been going on from Peter Lowe of the Woodland Trust; new approaches to sustainable crofting, from Anne Campbell, CALLP's Sustainable Crofting Co-ordinator; an award-winning archaeological rescue project at Clachtoll Broch, from Gordon Sleight, of Historic Assynt; outdoor learning that has reached every school in the area, from Kat Martin and Fiona Saywell, CALLP education managers; and new guidebooks and interpretation that will help visitors and locals alike discover more about the area, from Laura Hamlet, of the North West Highland Geopark.
There will also be presentations on the major path works from Rich Williams of the John Muir Trust, and Mark Foxwell and Michelle Henley of Scottish Wildlife Trust; Sam Black of Nature Scot talking about the importance of the High Value Open Habitat Survey; Holly Watson of the National Lottery Heritage Fund on why NLHF believe landscape-scale partnerships are so important; and Sarah Robinson of Scottish Wildlife Trust looking to the future. Boyd Alexander, CALLP's Scheme Manager will introduce some of the many smaller projects that have benefitted from CALLP's Community Grants Scheme, and tell the story of how CALLP came into being. Full programme details now available to view on CALLP's website at www.coigach-assynt.org.uk
Commenting on the conference, Vickii Campen, CALLP's training, events and volunteering officer, said: ''Co-ordinating this conference has highlighted to me what a privilege it has been to work with so many amazing partners on this landscape-scale project. Planning it has meant looking back over the last five years, which has been an emotional journey for us all. We are so proud of the work that has been completed, and are very much looking forward to sharing some of those achievements with our delegates.''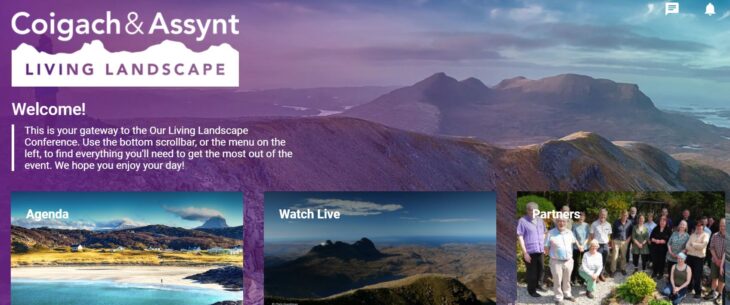 Over the past five years, CALLP has been delivering a programme of over 30 projects, supported though the National Lottery Heritage Fund and a range of other funders. Projects have so far included upgrading and creating almost 13km of paths, including routes over the iconic mountains of Quinag and Suilven; nearly 600ha of native woodlands planted and managed; training programmes for deer management and crofters; schools work with all ages; artists in residence; guidebooks and interpretation created; habitat surveys and citizen science projects. There will be presentations about all these projects and more.
Registration for the conference is now open at https://register.coigach-assyntconference.com/. To find out more visit the CALLP website page at www.coigach-assynt.org, or follow us on Facebook and Twitter.
---
Coigach & Assynt Living Landscape