Sunlit eyes over Coigach and Assynt
, by Coigach & Assynt Living Landscape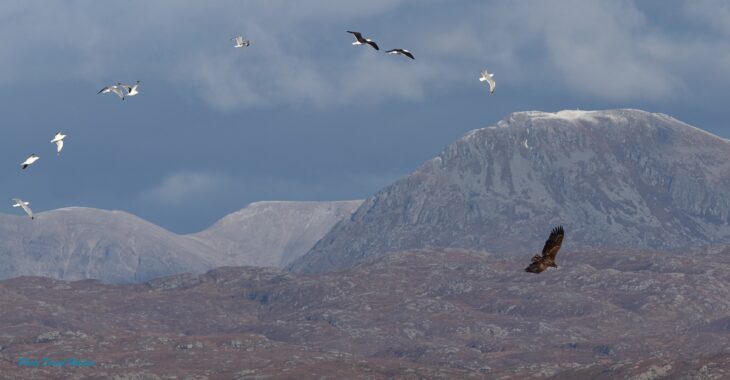 The magnificent iolaire suile na grein – the eagles with the sunlit eye – are being spotted in the skies over Coigach and Assynt more regularly these days, over a century after the last birds were hunted to extinction in Scotland. A white-tailed, or sea eagle was seen flying over Culkein Drumbeg in mid-December, though it may well have been a long way from home, as the birds can travel many kilometres from their territories in the winter. The sighting was listed on the Assynt Field Club website.
Reintroduced in the 1970s and 80s, these Scottish birds with the pale eyes now reconnect an arc of populations that stretches across the Northern lands from Greenland to Siberia, linked by not only geography but by ancient history and folk lore. The bones of white-tailed eagles have been found in Bronze Age burial sites on Orkney, and images of the birds can be found in much Celtic and ethnic art across the region.
With a wingspan of over 2m they are the largest bird of prey in Northern Europe, using their great wings to soar over land and water, mainly searching for carrion. Though they are known as sea eagles, in their heyday they would have ranged across lowland marshes, estuaries and woodlands too – places to which they are at last returning, with over 130 pairs now breeding across Scotland.
White tailed eagles are as much part of our natural and cultural heritage as our mountains and our brochs – their return to our skies a link to our past and their successful reintroduction a signal of hope for the future.
---
Coigach & Assynt Living Landscape