Repairs to make the Elphin Community Hall watertight
, by Coigach & Assynt Living Landscape
Elphin, Ledmore and Knockan Community Association are one of this years Community Grant Scheme recipients. Here is an update on their work so far:
Thanks to the generous donation of £5000 from CALLP and their partners Scottish Natural Heritage and the National Lottery Heritage Fund, the Elphin, Ledmore and Knockan Community Association Ltd have been able to employ Gordon Mackenzie and his son, Gavin from GM Roofing to start work on the repairs to the stonework and roof of the Elphin Community Hall to make the hall watertight and prevent further damage to the structure.
The hall, which was the old Assynt Primary School, is used by the communities around it as a meeting place and for social events that bring the people of the area together. Over the years, the condition of the exterior of the building has deteriorated allowing water into the structure and causing damage to the interior woodwork and plaster. Water has been dripping from the ceiling at the western end of the building causing huge pools of water on the floor of the porch and storeroom here. It has also been running down the interior plaster both here and at the edges of the chimney and in several upstairs rooms.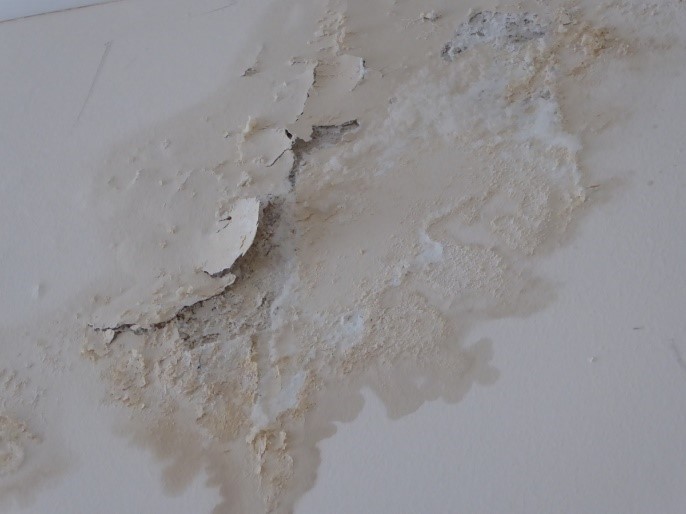 This photo (above) shows the condition of the plaster on the interior west wall. The area was patched and repainted about 2 years ago but the water leaking through the stonework and roof has again caused the plaster to crumble and break away.
At the beginning of the lock-down caused by Covid 19, CALLP approved the donation of £5000 which together with the money ELKCAL had managed to fund-raise over the last 5 years meant that we could engage GM Roofing to re-point the stonework, replace the lead sheeting and slates in the areas where the water was entering the building. The lock-down has proved to be an advantage as the hall could no longer be used for all the usual activities and Gordon and Gavin can work safely without risk of infection.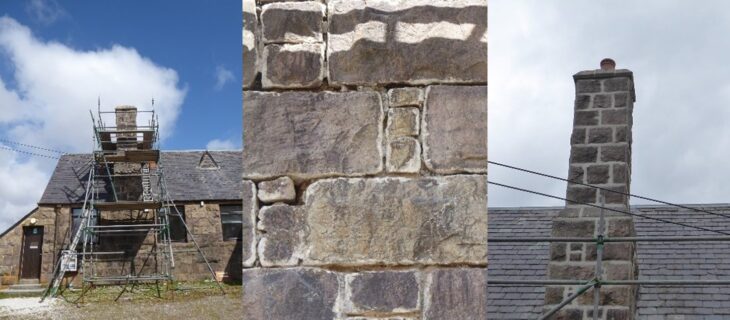 The first area that has been tackled is the chimney which has been re-pointed, had a new chimney pot and is being re-leaded at the moment. Some of the broken slates from this area have also been replaced.
The next area to be tackled is the western gable wall and porch roof which also needs re-pointing, re-leading and the slates replaced. Work is progressing steadily and hopefully by the time the restrictions are lifted and the hall is back in use all these works will have been completed and there will be no more water damage to the building and we can then tackle the repairs needed to the interior.
---
Coigach & Assynt Living Landscape