Orographic outdoor performance comes to CALL
, by Coigach & Assynt Living Landscape
Heard about our exciting performance coming up? Intrigued by the man on the banner on Culag Playing Field in his fantastic costume and face paint? Wondered what it's all about? Wonder no more! Find out more about Orographic below, a wonderful performance being brought to Little Assynt All Abilities Path on July 23rd, 2pm. Not to be missed!
Oceanallover in association with Feral presents

Orographic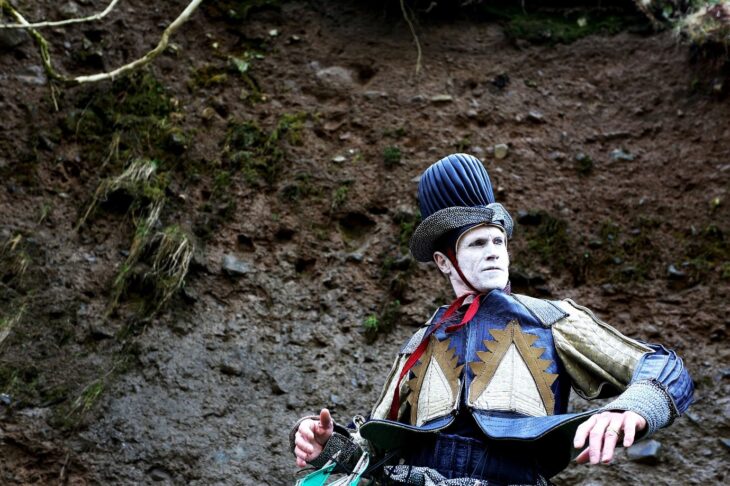 Spectacular outdoor performance fusing street theatre, live music and sculptural costume design inspired by Charles Rennie Mackintosh's landscape paintings and humankind's relationship to mountains.
Orographic is a new outdoor performance by leading physical theatre performance troupe Oceanallover inspired by Charles Rennie Mackintosh's landscape paintings and humankind's relationship to mountains. During July the company will be thrilling audiences across Scotland with FREE performances at unique outdoor locations showcasing their unique brand of street theatre combing carnival costume design and live music.
Oceanallover's Artistic Director, Alex Rigg, has a long time interest in the work of Charles Rennie Mackintosh and in particular his lesser known landscape paintings.  By the early 1920s, Mackintosh had abandoned his architectural practice entirely and moved to the south of France where he indulged his passion for watercolour landscape painting around the Vermilion coast and river valleys snaking into the high Pyrenees.
Orographic takes direct inspiration from the abstract lines and shapes that Mackintosh used to communicate the mountains and hillsides in his paintings, as well as the spectacular land masses of Scotland. The term itself was coined to describe the study of the formation and geographic features of mountains.  Occeanallover's music and spectacular costume design was influenced by spectacular land masses in Scotland such as Rackwick, Criffel, Cathkin Braes, Merrick, Ben Nevis, Ben Lomond, Arrochar Alps and the Campsie Fells.  Thematically Orographic will consider the awe we experience when faced with a mountainous structure and the human desire throughout history to conquer such edifices.
Across the tour Oceanallover's unique brand of pop-up theatre will be performed in locations as diverse as a harbourfronts, a forest, a castle and a mountain range.  Their performance interventions are designed to subvert and surprise for an audience that is a mixture of the unwise, the unwary and the unwitting.  Supported by Creative Scotland's Touring Fund for Theatre and Dance.
Creative Scotland's Janie Lumsden said: Oceanallover's production Orographic is an innovative work of the highest artistic integrity and ambition. It integrates movement, music/soundscape and design providing an experience that people of all ages can enjoy. This tour will enable people across Scotland, from the Islands to Ayrshire, to engage with an excellent quality visceral spectacle that also poses questions about how we live our lives."
LISTINGS
Oceanallover in association with Feral presents
Orographic
Duration: 45mins
Greenock Waterfront with Beacon Arts Centre (Greenock)
Saturday 13th July | 2pm | FREE
Meeting Point: Beacon Arts Centre
01475 723723 | www.beaconartscentre.co.uk
Muiravonside Country Park with Falkirk Community Trust (Falkirk)
Sunday 14th July | 2pm | FREE – booking essential
01324 506850| www.falkirkcommunitytrust.org
Dunnet Forest with Lyth Arts Centre (Caithness)
Sunday 21st July | 6pm | FREE – Booking Essential
Meeting Point: Dunnet Forest Main Entrance
01955 641434 | www.lytharts.org.uk
Little Assynt, Lochinver with Coigach and Assynt Living Landscapes (Lochinver)
Tuesday 23rd July  | 2pm | FREE
Meeting Point: Little Assynt All Abilities Path (Limited Parking)
Free minibus available from Lochinver by booking only.
Contact Vicki on 01571 844638 or vcampen@coigach-assynt.org to book a seat.

Talks Programme: 6pm – 9pm | Lochinver Village Hall Community Room | FREE
A series of talks from Coigach and Assynt Living Landscapes, John Muir Trust and artist Dougie Strang on mountains, wildlife, landscape and imagination.
www.coigach-assynt.org
Portree Harbour Front with Aros Arts Centre, Skye  (Isle of Skye)
Wednesday 24th July | 5.30pm | FREE
Meeting Point: Portree Harbour
01478 613750 | www.aroscommunitytheatre.co.uk
Brodick Castle with Arran Arts Trust (Isle of Arran)
Wednesday 31st July | 2pm | FREE with admission to Brodick Castle
Brodick Castle – Arran
www.arrantheatreandarts.co.uk
Facebook: @oceanallover @feralartprojects
Twitter: @oceanallover @FERAL_Arts
Web: www.oceanallover.co.uk | www.feralartprojects.com
---
Coigach & Assynt Living Landscape