What to Spot: July Edition
, by Coigach & Assynt Living Landscape
Here is the July edition of our joint blog with Assynt Field Club. Many birds are on the move this month or looking after young. Plumage is also changing from breeding to winter as the bright, attractive plumage is no longer required to find a mate. This can make identifying birds a little tricky this month as they don't look in their 'usual' or best form. Don't despair! Try looking at legs, beaks and characteristics that won't change to help.
Gulls are one of the tricky birds to identify as there are a lot of juveniles about at the moment, especially from Herring and Great Black-backed Gulls. Often seen on roofs or lamp posts as well as rocks; the young 'squeak' to their parents for food. Common around all the coasts and into mainland. Four to start looking for are
Herring Gull (Larus Argentatus) – often seen scavenging whatever they can get their beaks on. Notice the red spot on their beak and almost unpleased expression.
Common Gull (Larus canus) – I tend to think the common gulls have a 'friendly' face in comparison to the Herring Gull. Look for a light grey back and wings with black tips.
Great Black-backed Gull (Larus marinus) – Largest gull to be found in Coigach and Assynt. As the name suggests it has a black back, extending to its wings.
Lesser Black-backed Gull (Larus fuscus) – smaller than the Great but still distinguishable by its dark back and wings, but yellow legs. Often not as black as its larger cousin, more of a charcoal grey.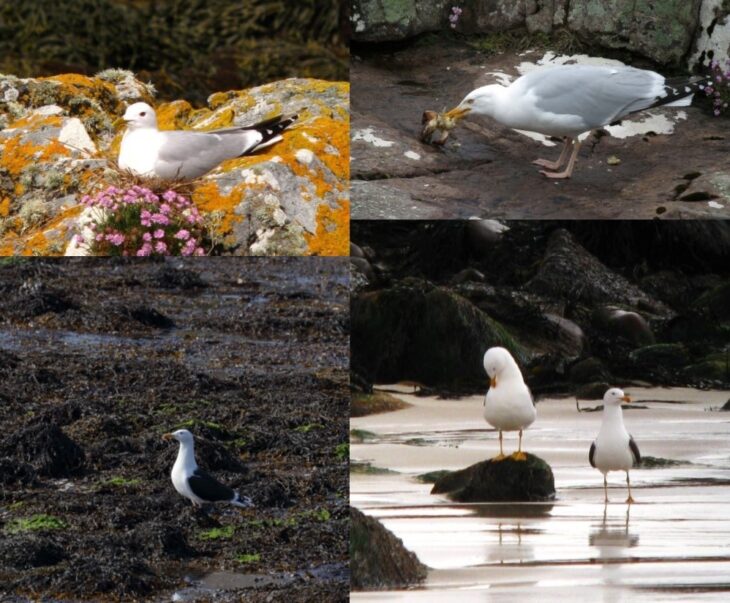 Moving on to highlight some waders this month. Currently in their summer breeding plumage, they are often seen and heard trying to lure you away from their nests by the shore. Some places best for waders are Bay of Culkein, Stoer Bay or Clachtoll Bay.
The Dunlin (Calidris alpina) is both a passage migrant and a breeding species, although in small numbers, in CALL. They are easy to spot with their dark, almost black, belly patch although they lose this in the winter.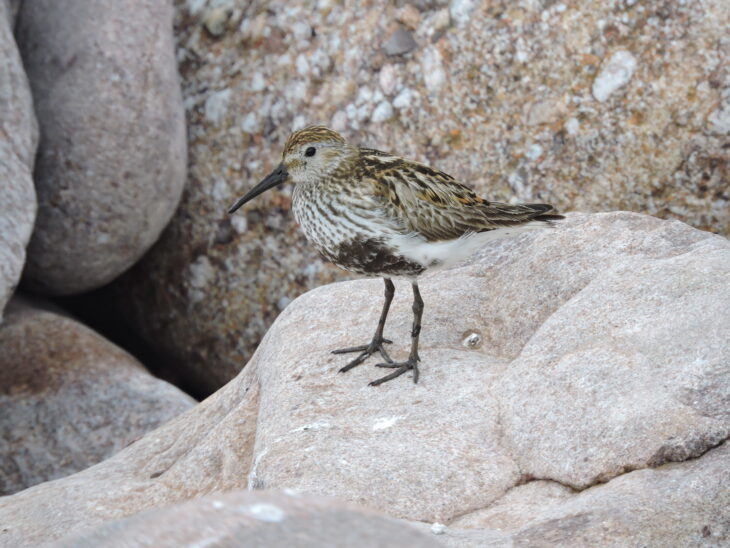 Turnstone (Arenaria interpres) migrants arrive this month on passage south. A distinctively marked, chunky wader with short legs, it can be found on beaches often turning over stones while foraging, giving it its name. Listen out for the sounds of rocks being moved to help find these well disguised birds on rocky shores.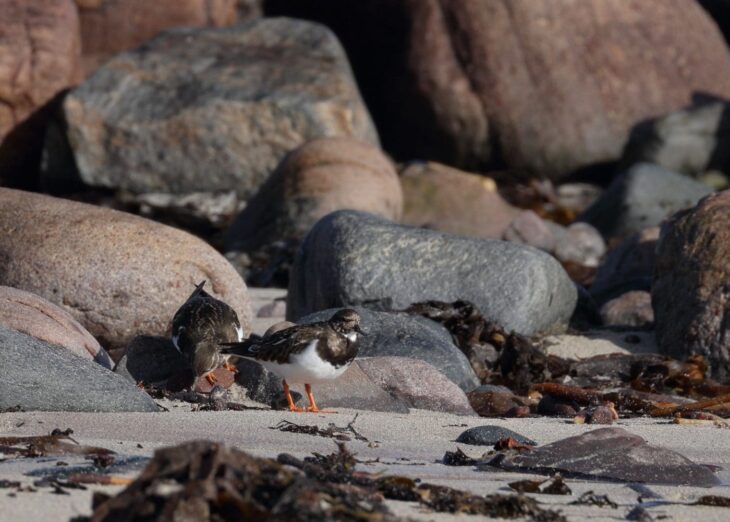 Greenshank (Tringa nebularia) are also nesting at the moment. Some stay in Scotland all year while others migrate for winter. When flying, these waders have a white spire running up their back from the tail.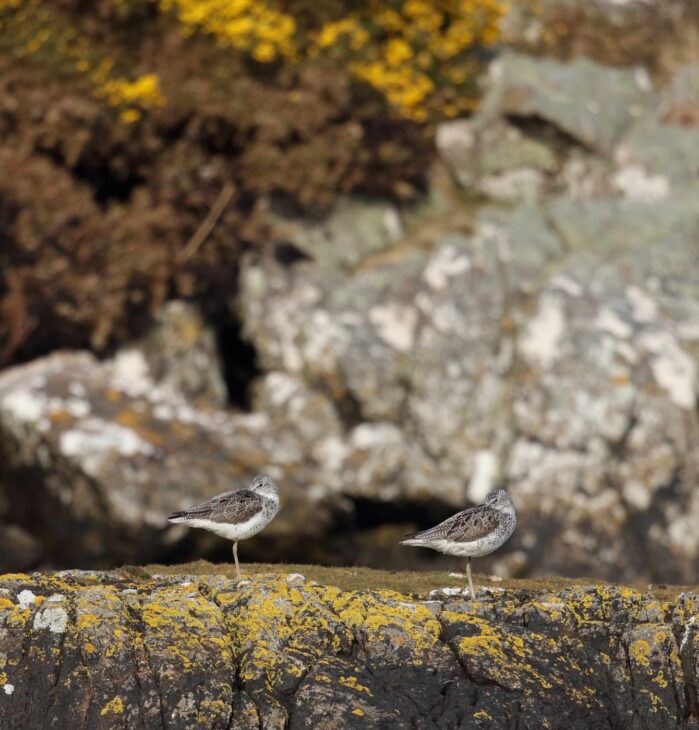 Redshank (Tringa totanus) are arriving this month from Iceland, with numbers peaking in August and September. Similar looking to the greenshank, but with bright red/orange legs and bill.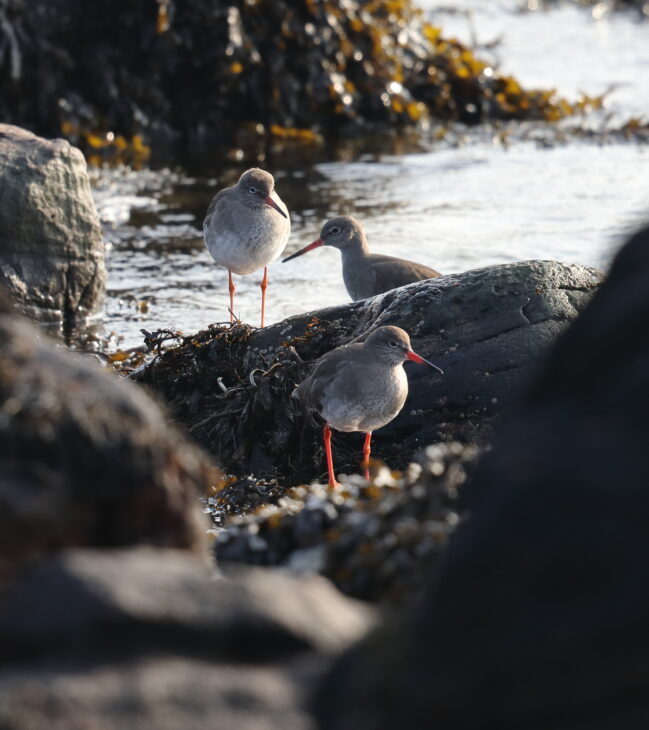 Black-tailed Godwits (Limosa limosa) return from breeding in Iceland this month. Beautifully coloured in breeding plumage, the males having a brighter orange neck and chest than the females. Similar looking to Bar-tailed Godwits, the Black-tailed have longer legs and a black bar on their tail when in flight. Stoer green can be a great place to see these migrants.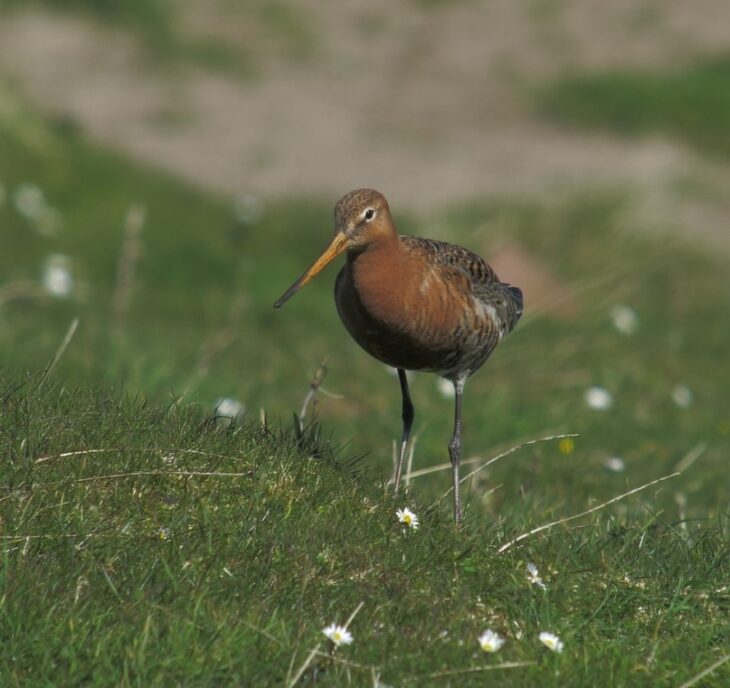 Curlews (Numenius arquata) can be seen all year with a significant European population within Scotland. Scottish birds are likely to winter in Ireland and are 'replaced' by Scandinavian birds that winter in Scotland. Their long down-curved beak is one of the easiest characteristics to look for.

One of the loudest birds near the coast this month are Terns. Both Common (Sterna hirundo) and Arctic (Sterna paradisaea) can be seen this month. Both breed on a few of our off-shore islands and Arctics pass through with newly fledged young on their way to Antarctica. They are both similar looking, with the Arctic generally looking the more delicate of the two. Try listening out for these 'sea swallows' along the CALL coastline, especially in Assynt.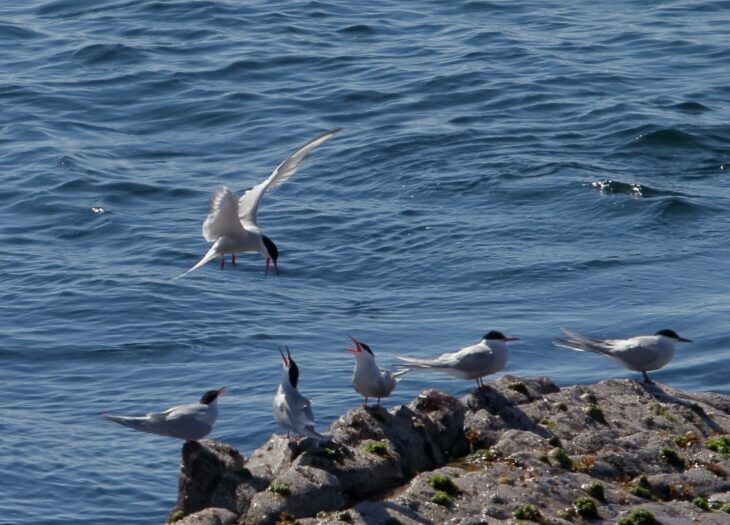 Walk along a shore in Coigach or Assynt and you may see a young seal looking 'abandoned' by its mother, but seal pups are regularly left alone on shores until they are able to keep up with mum. It is important to keep dogs well away. If it does look in distress or hurt please inform the British Divers Marine Life rescue, who may ask you just initially to watch the pup and they will only intervene if necessary. Unfortunately, not all pups make it, if you find any dead please contact Scottish Marine Animals Stranding Scheme.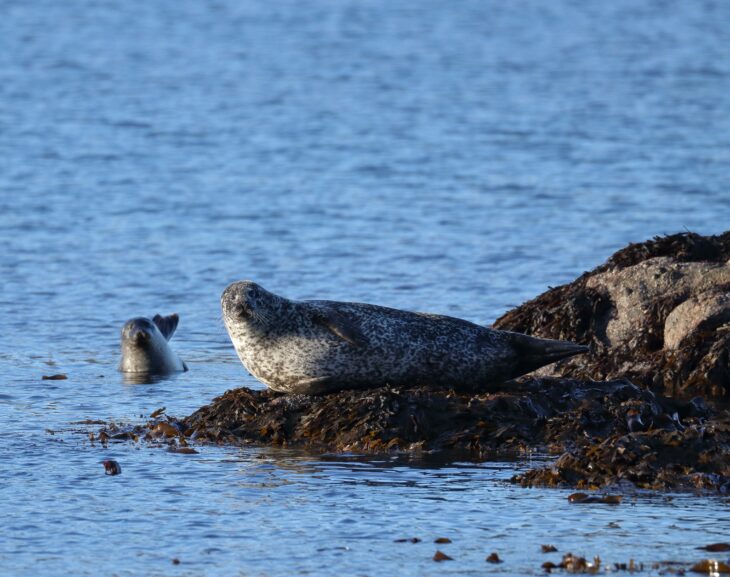 A few of the butterflies and moths you may start seeing this month are:
Green-Veined White (Pieris napi): possibly the most common white butterfly in the CALL area. Second broods will appear this month in marshy areas. With their wings open, they can be mistaken for the Large White (Pieris brassicae) but its underwings have distinct green veins that give it its name.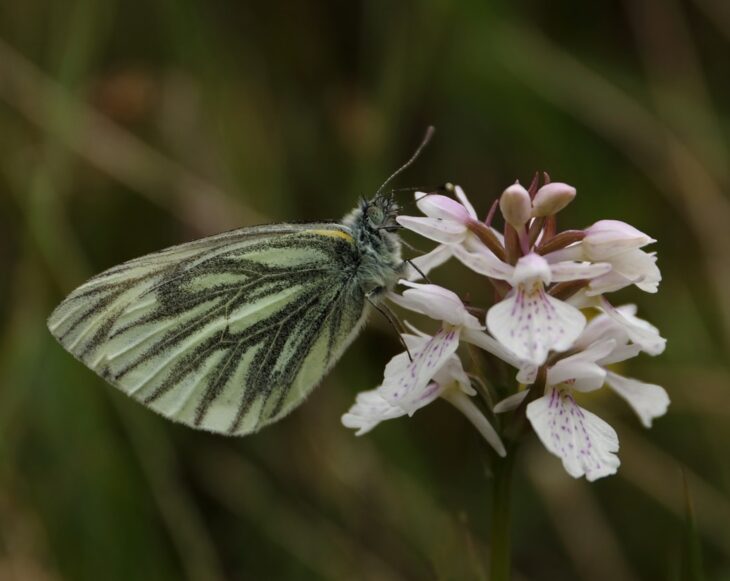 Grayling (Hipparchia semele): A well camouflaged butterfly when sunbathing on rocks, it can be difficult to spot but don't be discouraged! Graylings are a coastal species and have been seen along Coigach and Assynt's cliff and sand dunes.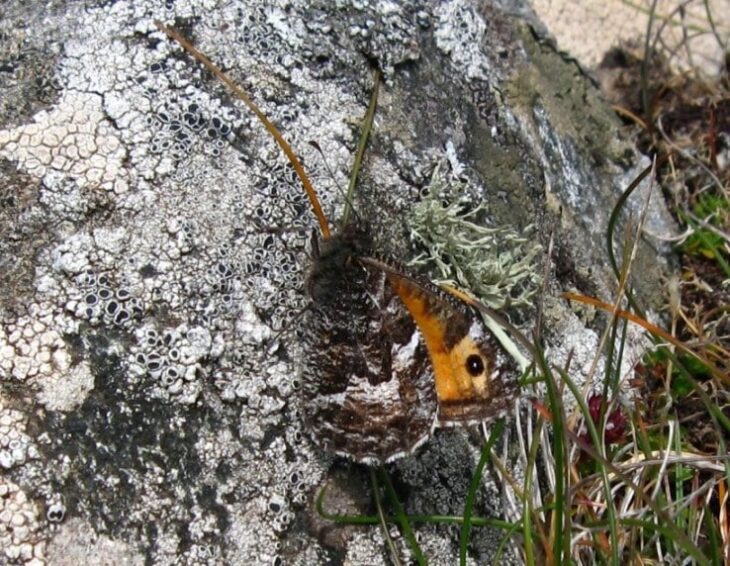 Dark Green Fritillary (Argynnis aglaja): Particularly liking thistles and knapweed, this butterfly can be found in grass or moorland habitats. Its name comes from the dark green undersides of the wings and is widespread across the area. For this and the above species try a walk at Achmelvich, Glencanisp or Clachtoll to try and spot these beauties.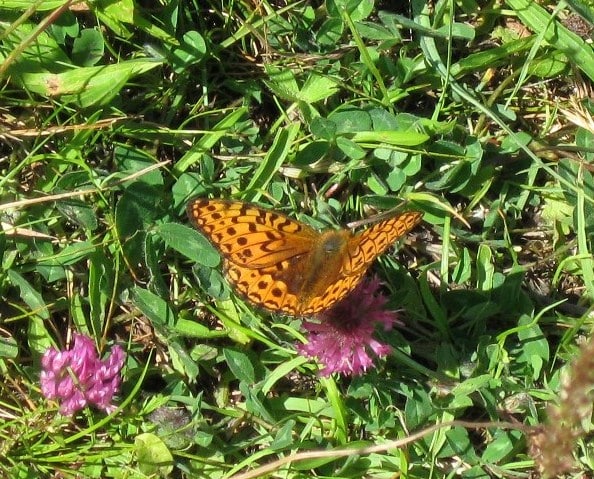 Magpie Moth (Abraxas grossulariata): a stunning day flying moth that is easily recognisable by its unique colouring. Little Assynt All Abilities path is a great spot for looking for these scrub and moorland loving moths.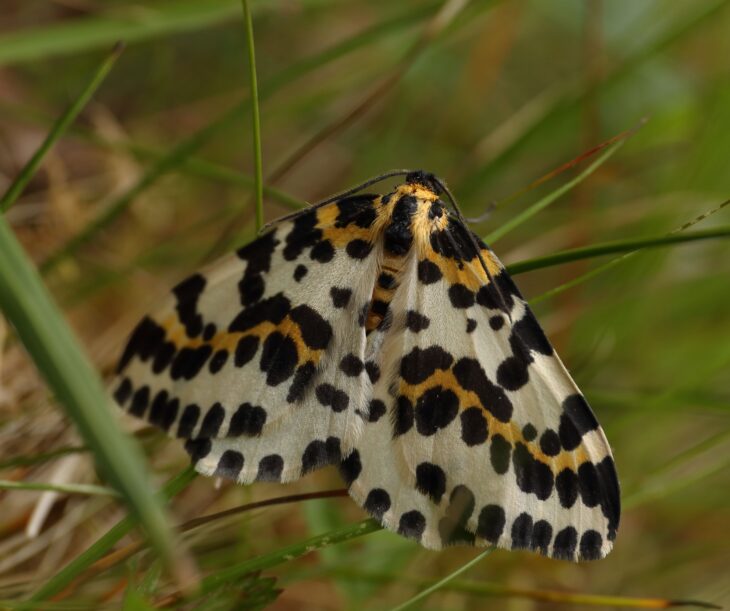 With the damp weather we have had lately, bog plants are thriving. Some to look out for are the yellow spires of Bog Asphodel (Narthecium ossifragum) and red carpets of Round Leaved Sundew (Drosera rotundifolia).
Bog Asphodel can be found in damp peaty ground, often on hills, flowering through until august. Their bright star shaped flowers can be spotted from a distance and are well worth a closer look.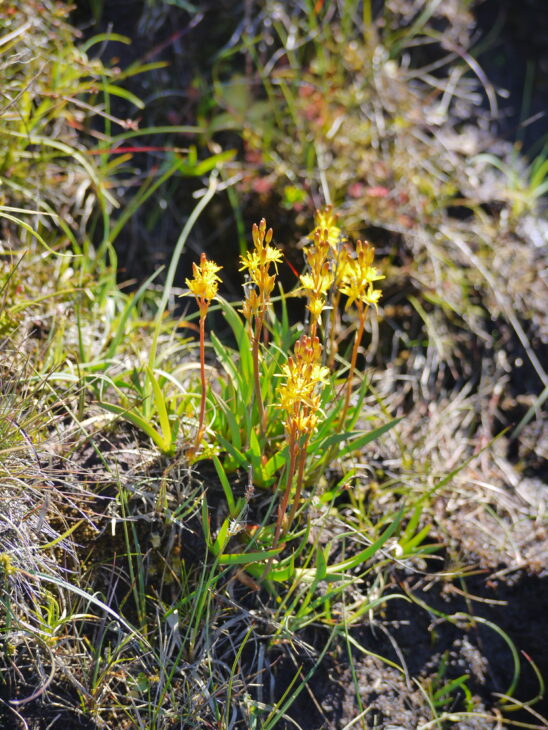 Round-Leaved Sundews are carnivorous, trapping and devouring insects that get stuck to a sticky sugary substance the plants produce. Also a bog plant and quite small and discrete compared to the bold Bog Asphodel, scan the ground around wet areas to see these fascinating plants for example around Quinag or Achlochan.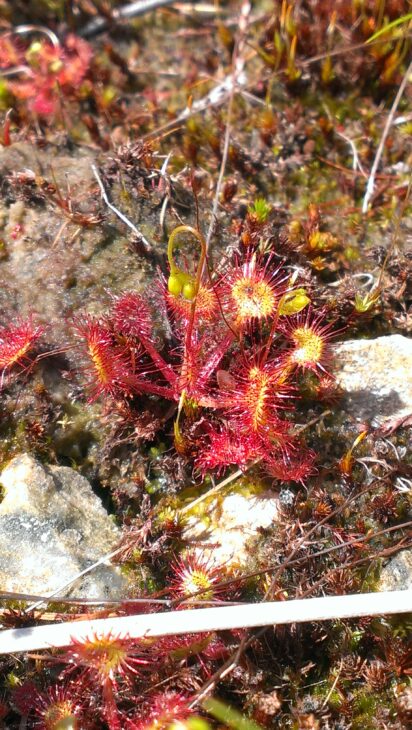 For more information on the Wildlife of Assynt please visit www.assyntwildlife.org.uk.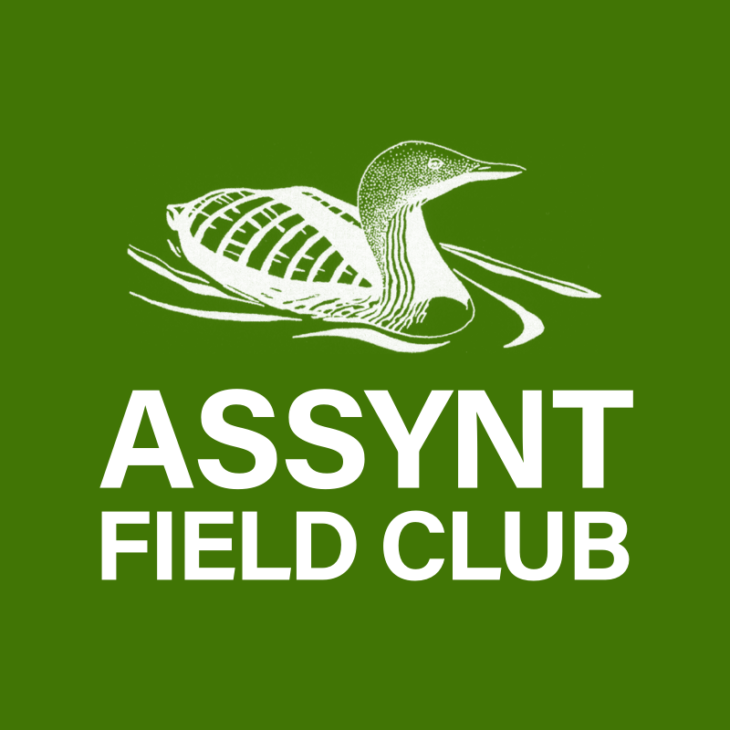 ---
Coigach & Assynt Living Landscape