The Amazing Things About Trees
, by Coigach & Assynt Living Landscape
Guest blog by Chris Goodman, Course Leader
Trees never cease to amaze me, the other week a friend told me that one of the drugs used for fighting cancer comes from Yew trees. I also recently read that patients in hospital recover faster from surgery or illness if they're surrounded by plants and have trees outside their window to look at while another study found that spending time in healthy woodlands is beneficial to our mental health.
Sipping on some Birch sap fresh from the tree I'm pondering the claimed health benefits of drinking this. Although about 98% water there are apparently lots of vitamins and nutrients in it including potassium, manganese, thiamine and calcium as well as that hint of sweetness. It tastes pretty much like water but the freshest water you've ever tasted! If you believe the hype then it's helping cleanse my system with every mouthful.
Having shed their leaves and drained as much water from their bodies as they could in the Autumn to protect themselves from Winter winds and freezing temperatures, Birch trees are now pumping sap up to all the branches to feed the new leaves of this year. This rush of sap upwards lasts for about 3-4 weeks through March and it's possible to harvest some of it for our own uses without doing much harm to the tree.
And that's just what we did on Saturday with a couple of trees in Culag Woods. With a drill, a length of tube and a large bottle we started collecting some of this amazing tree juice, drop by drop before heading back to the Leisure Centre to try some of the sap that I'd 'tapped' from another tree during the week.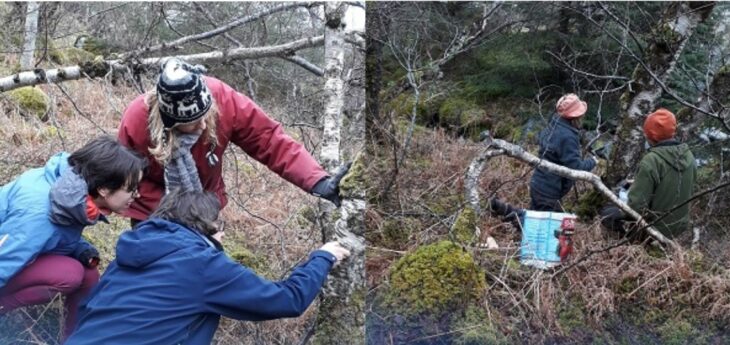 Also on the menu was Birch syrup glaze drizzled over a little salad and pure Birch syrup to go with some fruit, all washed down with the last bottle of 2018's homemade Birch sap wine. I've got 1 demi-john of Birch home brew glugging away from the sap collected so far this year and hopefully I can collect enough in the next week or two to get another going to savour throughout the coming year.
But most of all I enjoy drinking it straight out of the tree and really enjoy this time in the annual calendar as the rising sap marks the start of Spring for me and the longer days, singing birds and emerging leaves all help lift my mood.
To see more of Chris' beautiful work please visit his website http://assyntwoods.webplus.net/index.html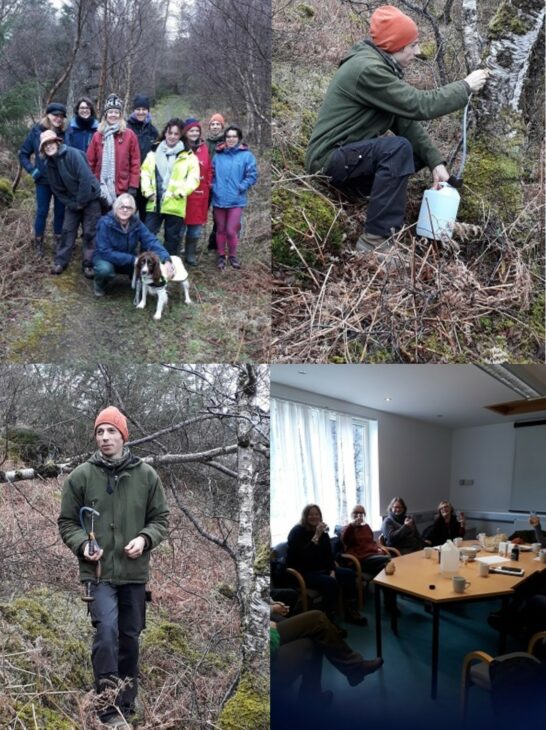 ---
Coigach & Assynt Living Landscape