Sometimes things just don't work out
, by Coigach & Assynt Living Landscape
Guest blog by commissioned photographer, Chris Puddephatt
Mid-July and I hear that work has resumed in the gully up to the summit ridge, whilst the path across the peat must be almost finished. I'm keen to meet up with the "upper team" that I first saw on that cold foggy day; well over a year ago now.
Before I head off up the trail, I make a couple of phone calls and only get answerphones, then Stewart from Glencanisp throws doubt on whether the Upper Team are actually up there at all today. It was an omen, or two. But it's a nice day, so off I go.
As I leave the trees by the Lodge, I get a heady scent; one of my summer favourites actually, Meadowsweet flowering near to the track. Also Valerian with it; that should calm things down….. And there's a flash of bright blue: Tufted Vetch. Later I get a vivid patch of yellow from Stonecrop too. At least there are some nice flowers; Suilven is wearing its hat of grey cloud.
I pass quite a few walkers. They must be relieved when the cloud blows off the top!
Turning up the renovated path, I have to get all the way to the far end before I find Matt and John putting finishing touches to the verges of the lower section. The many, many white one-tonne bags of stone have virtually all gone; that was a lot of work!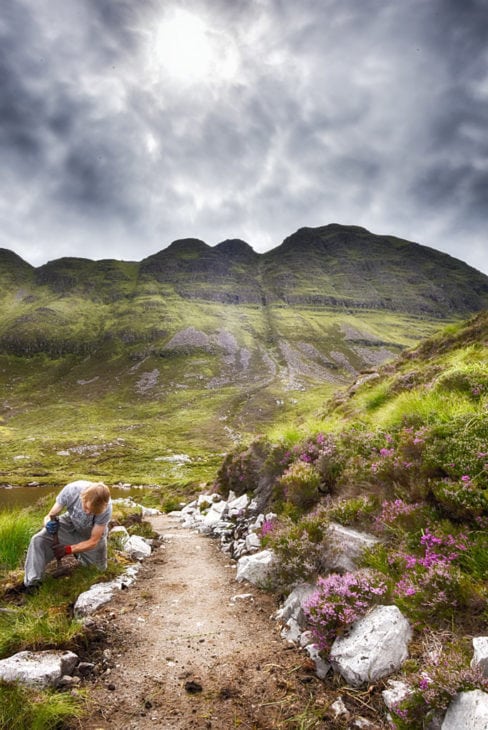 So, "are they there?" They're not sure; unlikely, but can't be certain. Well, there's only one way to find out. I looked absolutely everywhere, including up by the summit cairn, and no, they weren't there. I'd walked all this way……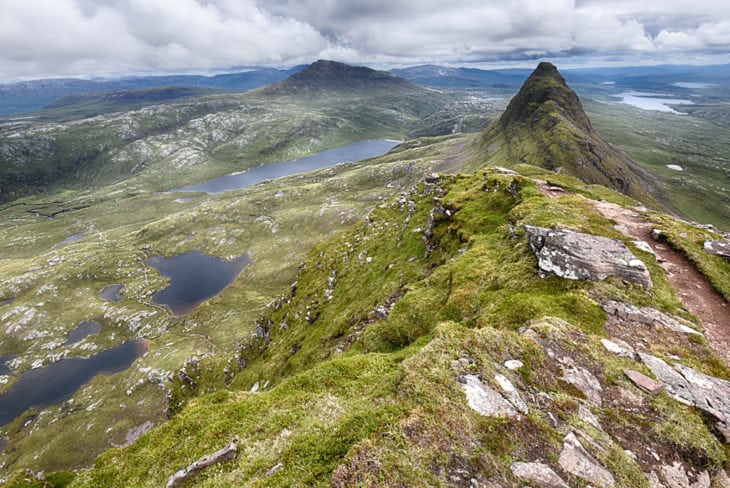 But, I found a few walkers to talk to, and, as usual, met some interesting people.
From the top: the new path, devoid of bags, clearly visible as a narrow ribbon across the peat. Back down with Matt and John, I get a few shots of them bashing in vegetation to complete the sides of the path, and say "goodbye", as I'll probably not see this team again.
Near to the bothy, I stop to get a view of Suilven with a reflection; similar to last time. So similar that it was the same cleggs trying to bite me? I hadn't seen any all day; they must've been expecting me.
Mission not accomplished; return visit necessary.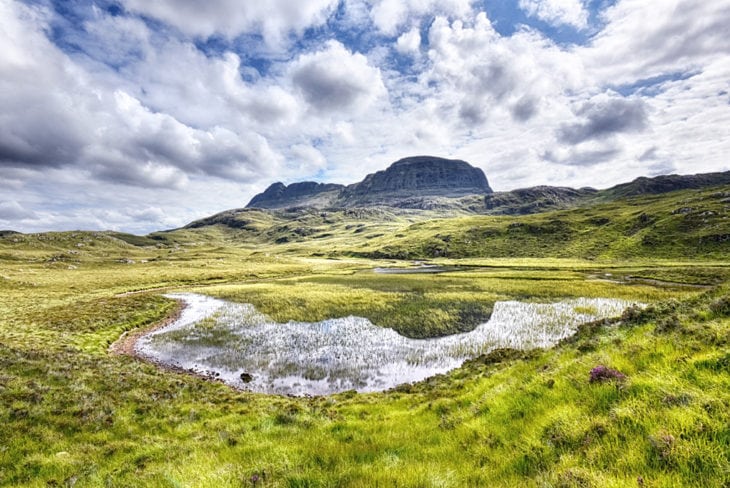 Driving home, I thought I'd stop at a friend's house for a chat and a brew, but there was no car on the drive, so I carried on. At my own gate, I get the text to say they were actually in; couldn't get to the door quick enough; the car war in the garage being repaired. I could've predicted that.
Find out more about the Suilven Path Project here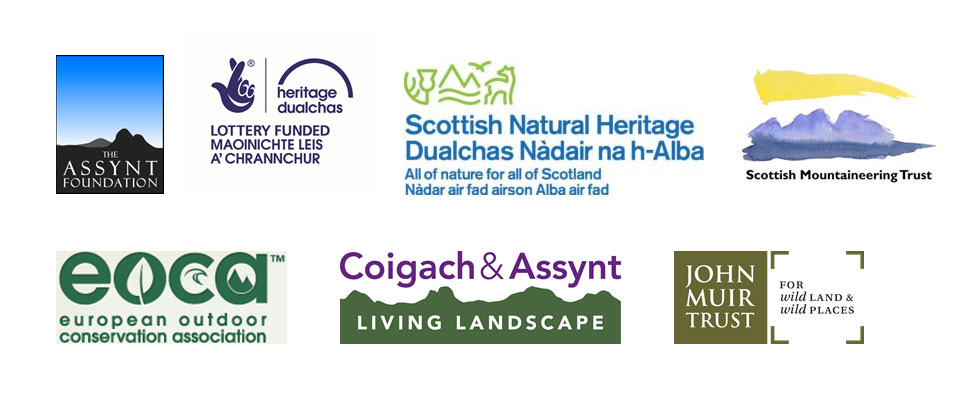 ---
Coigach & Assynt Living Landscape