A Hole Lode of Peat
, by Coigach & Assynt Living Landscape
Guest blog and photography by Chris Puddephatt from 18th May 2017.
A heavier rucksack for the long walk today; I'm taking a tripod and a heavier camera with the intention of getting a time-lapse sequence. I've set the camera to take one photo every second for one hour, and this should turn into two minutes of time-lapse. Just got to get there first, and find a suitable section of path work to point the camera at. And no rain for that particular hour either.
In the car park, Chris Goodman pedals his way to meet me, whilst I get bitten by a couple of midges. Local entrepreneur Marianne has sold me the new credit-card-sized Smidge just in time!
Me & Chris spend the next 2 hours walking and blethering. That's a new word for a Sassenach like me, and I'm finding that I like it.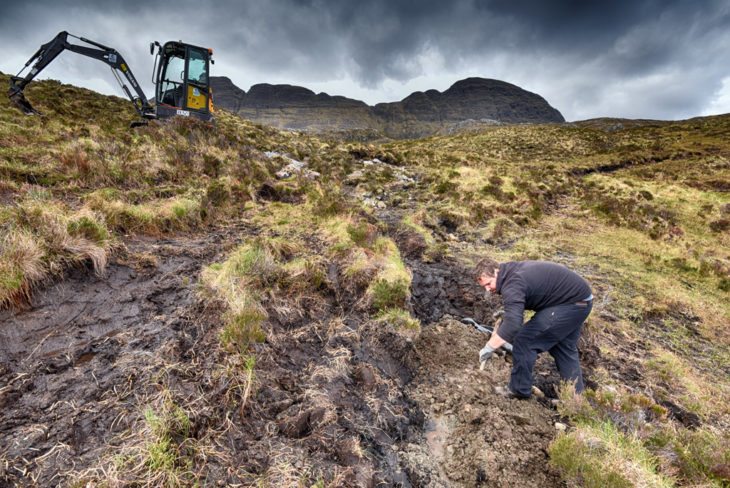 Up at the path, Andy and Mark have made a lovely job of the first section from the track. We find them about 200 yards in, scratching their heads: they need to find some more gravelly top dressing and its proving a challenge. It needs to come out of a hole very close to the path, which is subsequently restored as best it can, but the hole I see is about five feet of peat and then solid rock. No grit or gravel at all.
Loads of walkers today, and most stop for a chat. There were more yesterday, I'm told.
The Nikon is clicking away on its tripod, and I grab a few more and a couple of short videos with the GoPro.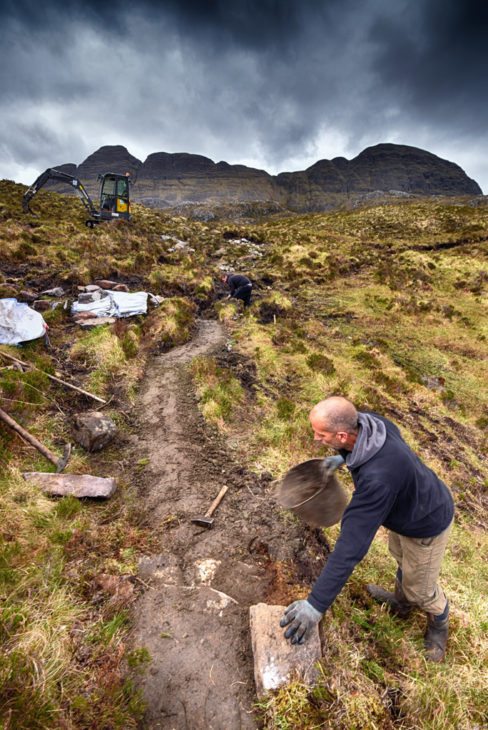 Time-lapse is going to be the construction of a "cross-drain". Unfortunately, after 35 minutes, work stops as the non-existent gravel is needed to complete it, so I switch the camera off. The footage I have captured is actually quite amusing: Andy and Mark scurrying about like ants. Or was it Buster Keaton?
I leave them all and walk back. After a tip-off, I've got my i-pod to listen to some music, but the birds are a-chortling, so I listen to them instead.
Find out more about the Suilven Path Project here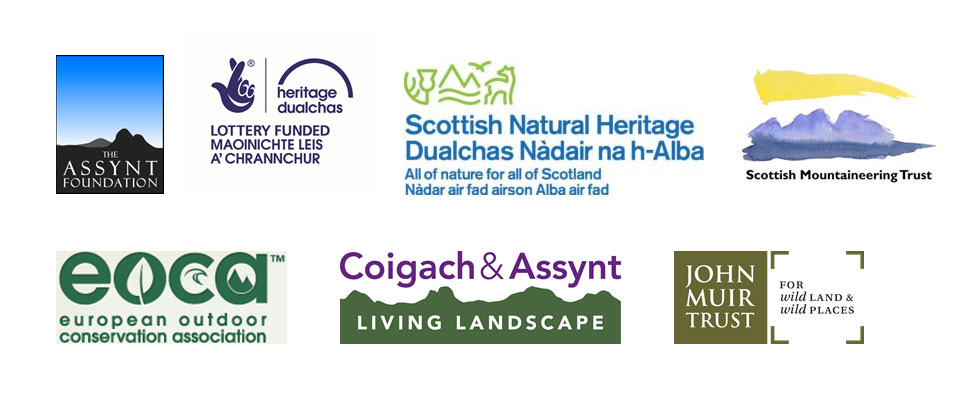 ---
Coigach & Assynt Living Landscape