Achlochan Coastal Heritage Project Update
, by Boyd Alexander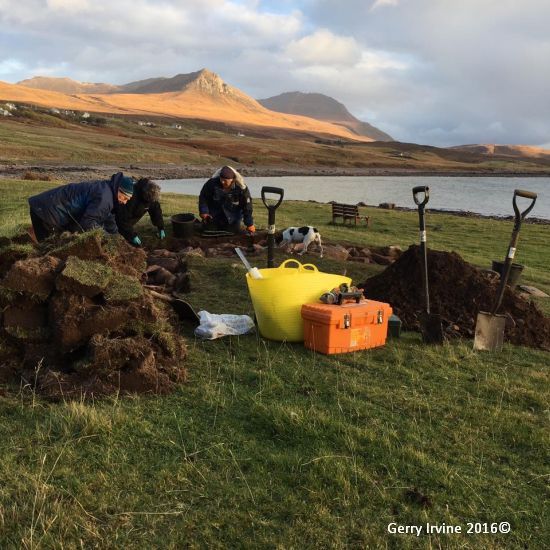 The Achlochan Peninsula in Achiltibuie has seen lots of activity over the past two months, with more to come. In late October a week long archaeological survey took place. The main focus was the ruined broch on the south-east of the peninsula, but the entire peninsula was considered and surveyed with many interesting new sites identified – the full report will be available by the end of this year. The survey work provided an opportunity for local residents to get involved and learn first-hand how professional archaeologists record and assess a site, whilst also hosting visits from 30 Achiltibuie and Lochinver Primary School pupils and 32 Ullapool High School pupils during the week.
Work is now almost complete on a new track from the Piping School Café to the shore (for restricted vehicle access) and then on to the Firing Range Target (footpath only). This was undertaken by Scottish Water, and although part of the initial CALL project proposal, has been completed free of charge, providing much improved access to the peninsula and linking in with repair works to the peninsula's circular path, which will be underway shortly. Work has also started to clear an area of reeds from the lochan with a view to returning an area of open water, in the hope that this will lead to more bird life and a general boost in the site's biodiversity.
This work is made possible through the generous support of; The Heritage Lottery Fund, The Pilgrim Trust, Historic Environment Scotland, Scottish Natural Heritage, The Landfill Community Fund and Scottish Water.
---
Boyd Alexander