Dry Stone Wall Training Day 4th May 2016
, by Coigach & Assynt Living Landscape
Want to Learn the Basics and More of Dry Stone Walling?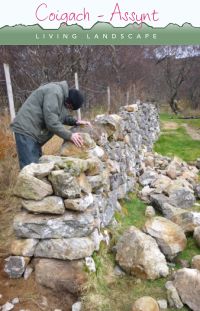 Calling all beginner and experienced Dry Stone Wallers and enthusiasts.  Join the Dry Stone Wall Assessment Day on 4th May 2016 and learn the fundamentals and more interesting techniques of dry stone walling!  Master wall builder, Dave Goulder, will tutor the participants over the day, and assess participants for the opportunities for more advanced dry stone walling training.
Dry stone walling in Britain stretches back at least three and a half millennia, to the village of Skara Brae in the Orkneys, and the Iron Age brochs of northern and western Scotland.  Today dry stone walling is prospering with an upsurge in interest in crofting, the environmental value of walls, and the growth in prestigious garden, landscape and artistic projects.  Dry stone walls are an important feature of the local landscape which should not be taken for granted.
Coigach Assynt Living Landscape, with funding from the Coastal Communities Fund, through the Assynt Learning Center, is supporting this opportunity for participants to learn local heritage and alternative livelihood skills.  For more information please email balexander@coigach-assynt.org or call 01571 844638
---
Coigach & Assynt Living Landscape