Red-throated divers up close
, by Coigach & Assynt Living Landscape
NEW this season 2015
Photographic hide rental in the dramatic Coigach and Assynt landscape 
One of the CALL partners, Assynt Foundation,  have teamed up with NORTHSHOTS, the award-winning wildlife, nature and conservation photographer Peter Cairns to offer you an amazing photographic experience.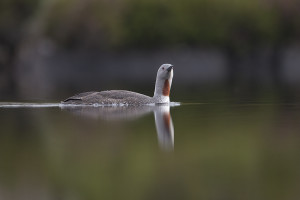 A unique opportunity to photograph one of Scotland's most enigmatic birds at close quarters using a specially built hide overlooking a remote, natural hill lochan in Assynt. The 2-person hide is positioned for optimum background and lighting and allows water level images. The photography will take place on a breeding lochan under licence and to minimise any disturbance, photographers should be prepared to spend a minimum of 5 hours in the hide. All efforts have been made to ensure there is no disturbance to these rare birds and consultations have been made with RSPB and SNH. You will be shown into the hide with a 20 minute walk over rough ground required. The hide will suit photographers of all levels of experience, but it should be noted that a willingness to spend extended periods inside the hide remaining quiet, is a requirement.
Ideal camera/camera lens combination: full frame 500mm.
Available: mid June – early August (depends on breeding success)
Price: 1 session: £150 per person; 2 sessions: £250 per person; 3 sessions: £325 per person.
For more information and to book, please contact Pete Cairns at 01540 651352 or email tours@northshots.com
Why not make a week of it for you and the family and stay at the fabulous Glencanisp Lodge – it is the perfect venue for a great Scottish Highlands get-together. www.glencanisp-lodge.co.uk
---
Coigach & Assynt Living Landscape