CALLP or CALL?!
, by Coigach & Assynt Living Landscape
The sharp-eyed among you may have noticed that there seems to be a new organisation around.  You may be used to seeing the CALL logo but recently 'CALLP' has appeared …are they one and the same you ask?  Well, CALLP (Coigach Assynt Living Landscape Partnership) is the expanded group formed to develop and deliver those projects given stage one approval by the Heritage Lottery Fund (HLF) as a 'Landscape Partnership Scheme' last autumn.  This expanded group comprises the original Coigach Assynt Living Landscape (CALL) partners (Assynt Foundation, Culag Community Woodland Trust, Eisg Brachaidh estate, John Muir Trust, Kylesku Estate, Scottish Wildlife Trust & Tanera Mor) plus new CALLP partners: Assynt Field Club, Coigach Community Development Company, Coigach Salmon Fisheries, Historic Assynt & Isle Martin Trust.
CALLP also has three new employees: Richard Williams was appointed as the Development Manager in March 2014.  He lives in Achiltibuie with his young family, and has spent the last 5 years living and working on Tanera Mor. Fiona Saywell and Elaine Macaskill have recently been appointed on a job-share basis as the Assistant Development Managers.  Fiona is the part time Project Officer with Culag Community Woodland Trust and lives in Drumbeg with her husband and two children. Elaine is a forester by training and has worked variously in both public and private practice. She is moving back to the family croft in Inverkirkaig with her husband and three young children from Inverness.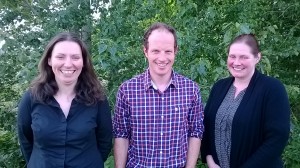 Fiona, Richard, Elaine
The team is developing the detailed stage 2 application for HLF over the next 12 months. Through this CALLP hopes to secure the provisional HLF funding offer of £2.9 million. This represents roughly 2/3rds of the total anticipated project cost of £4.5 million. Therefore a further £1.6 million needs to be found to match fund all the projects.  It's a big task but once secured the project will run for a period of 5 years, offering secure employment locally and contract work throughout the period 2015 – 2020 and delivering a wide range of benefits to the local area.
Examples of the likely work include: excavation and interpretation of Clachtoll Broch, an outdoor & woodland learning programme for schools throughout the area, protecting and expanding the area's native woodlands, and repairs and upgrades to various paths within the area.  Please take a look at the links and downloads section of www.coigach-assynt.org for the full current list of potential projects.
The CALLP development team is sharing office space with CCWT in Lochinver and would be delighted to speak to anyone interested in learning more about the project.  Please drop in for a chat or contact us by email; rwilliams@coigach-assynt.org, or fsaywell@coigach-assynt.org or emacaskill@coigach-assynt.org or by phone on 01571 844 638.
---
Coigach & Assynt Living Landscape