many thanks to Romany!
, by Coigach & Assynt Living Landscape
Thursday 27th March was a regular Volunteers' morning at the tree nursery, as far as Romany was concerned – apart from it being the last one she would organise, as her contract has sadly come to an end.  But slowly it dawned on her that something was up, as more and more people arrived….we had planned a little send-off for her!
People came from all over: Achiltibuie, Nedd, Elphin, and even the Black Isle, first to help prepare part of the field for lining-out seedlings – and then to enjoy the feast of home-made soup and cake which folk had contributed. The sun shone and it was a fitting send-off for Romany, who has done so much work to involve a wide range of people in CALL, through events and activities.  Viv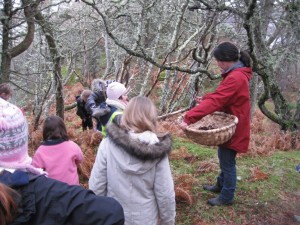 ---
Coigach & Assynt Living Landscape