FIRE!!
, by Coigach & Assynt Living Landscape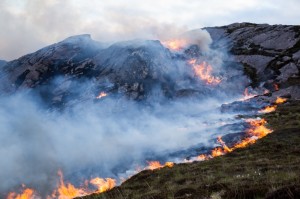 (photo copyright Kevin Percival)
Fires in the countryside can be devastating to wildlife and vegetation and can threaten livelihoods.  Whilst fire can be carefully used as a management tool by landmanagers, or be part of a camping experience, if out of control or started accidentally it can be disastrous.
We urge people to take the utmost care with fire during dry weather conditions.    Viv says "In 2012, over 6000 hectares of land were seriously affected by fire, including many young developing woodlands, most likely due to an accident with a camping stove.  Last year, further fires on CALL partners' land, on the island of Tanera Mor and near Ledmore junction, caused damage to extensive areas of heath and young woodland.  Fortunately the CALL partners, which include the Assynt Foundation, Culag Community Woodland Trust, Eisg Brachaidh estate, John Muir Trust, Kylesku estate, Scottish Wildlife Trust and Tanera Mor, are well used to working together.  Along with generous and rapid support from other nearby estates, local people and estate staff were able to react quickly to these events and prevent the fires damaging even more land.  We have now developed and put in place a joint fire action plan which should allow  an even faster response to any fire alerts – but we'd much rather not have to put it to the test!  We've had a wet spring but there is often a spell of dry weather leading up to Easter and the early May holiday weekend.  Dead bracken and leaf litter make perfect kindling, especially when a fire is fanned by a fresh breeze.  Please be responsible with fire – it can destroy in minutes the results of years of hard work in this fragile area."
The CALL partnership is asking people to be vigilant and report out of control or accidental fires.  The Muirburn Code covers fire management of all vegetation on moorland, which is restricted to burning between 1st October and 15th April.  In some cases this might be extended to 30th April, but the Scottish Government does not encourage this.  The Code also is clear there are offences committed if burning outside this period or at night, leaving a fire unattended or being unable to control a fire.  It is also an offence to cause damage to any woodland or allow a fire to spread within 30m of a road.  If you discover a wildfire or see smoke and think this is not following the Muirburn Code – please call the Police and Fire & Rescue Service immediately: dial 999. If you know which estate the fire is on, please also contact the estate office.  Viv
---
Coigach & Assynt Living Landscape