willow weaving in Achiltibuie
, by Coigach & Assynt Living Landscape
On a bright and breezy 18th January, a group of ten people got together at Coigach Community Hall.  The plan was to anticipate spring, and make a garden plant support from willow – to be used to support sweet peas, beans, or any climbers in the garden.  There is a lovely living willow tunnel in the hall's garden so we were using material from that (and helping with the annual pruning!). 
Our tutor for the day was local basketmaker Midge Drake, who had earlier cut the largest growth and laid it on the grass for us to select lengths.   
Most of us worked inside the hall, using heavy boards with pre-drilled holes to keep the uprights in place.  Three intrepid people worked outside, sticking the uprights into the grass and battling with the strengthening wind.
Midge guided us through the pattern for making a support and patiently helped everyone when they found difficulty with 'in front of 2 behind 1' and joining in new weavers.  
 Fortified with coffee and biscuits we all had a great, sociable and creative day.  Most people had done nothing like this before but were happy with their creations and keen to do more in future.  Another example of how we can make things ourselves using locally-grown material….and have fun!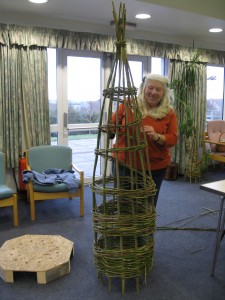 Cathy, pleased with the end result!
---
Coigach & Assynt Living Landscape