Toiling on Tanera
, by Coigach & Assynt Living Landscape
For the second year running, Tanera Mor was delighted to welcome a John Muir Trust work party to the island for a week in early October. Adverse sea conditions meant a 36 hour delay in getting volunteers to the island but accommodation and suitably engaging activity (in the form of fence removal on JMT's Quinag estate and some brash removal) was found for all on the mainland.
Once on Tanera the group of 18 set about a range of tasks, many following on from work undertaken 12 months previously. These included:
– The first steps in a project to restore one of the Island's former dwellings to provide bothy / bunkhouse accommodation for visiting groups
– Path maintenance and restoration work at various key sites around the Island's path network
– The repair and part replacement of an old fence line to allow for targeted grazing of an area of potentially species-rich grassland
– The rebuilding of a section of old drystone dyke in close proximity to the Island's graveyard
– The installation of two gates to complete drystone dyke repairs undertaken by the group in 2012 as part of ongoing targeted grazing programme
We were delighted to achieve such good progress on a number of key areas in a relatively short space of time, and not always in the best of weather conditions! We are extremely grateful once again to Sandy Maxwell and the Trust for running the work party and to the volunteers whose hard work, good company and patience with the weather were all very much appreciated. We hope very much to be able to welcome the group back in 2014.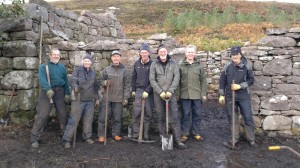 ---
Coigach & Assynt Living Landscape