funding frenzy
, by Coigach & Assynt Living Landscape
I've never felt inclined to run a marathon though of course I admire folk who do. It takes such detailed planning and training beforehand and lots of support from friends and colleagues. Then when it comes to the race you set off, well-armed with that solid preparation, pacing yourself and hoping you'll have the stamina to last the distance and come in ahead of (at least some of) the competition.
Having not been involved in such a major funding application before, the process of applying to HLF for Landscape Partnership funding has felt like a marathon – a real challenge. We will submit our bid this week. We think it's a strong bid, with lots of good projects but it is a competitive world so our fingers are firmly crossed – till October when a decision is made by HLF.
I couldn't have done it without lots of help from the CALL partners and particularly my colleague Steve, one of SWT's fundraisers. Everyone has been very patient with my frequent calls for help! THANKS to all involved.  I'm off to recuperate on a white sandy beach by the aquamarine sea – no, not Mauritius, more likely North Uist!
Meanwhile Romany has been out and about offering events during Biodiversity week which have been much enjoyed.  At the tree nursery, Nick is tending beds full of wee rowans, birch, alder and hazel…it's looking really good.   Viv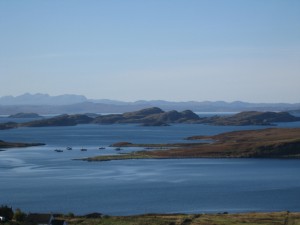 Summer Isles from Altandhu
---
Coigach & Assynt Living Landscape