OWL project will live on through new resources
, by Sue Walker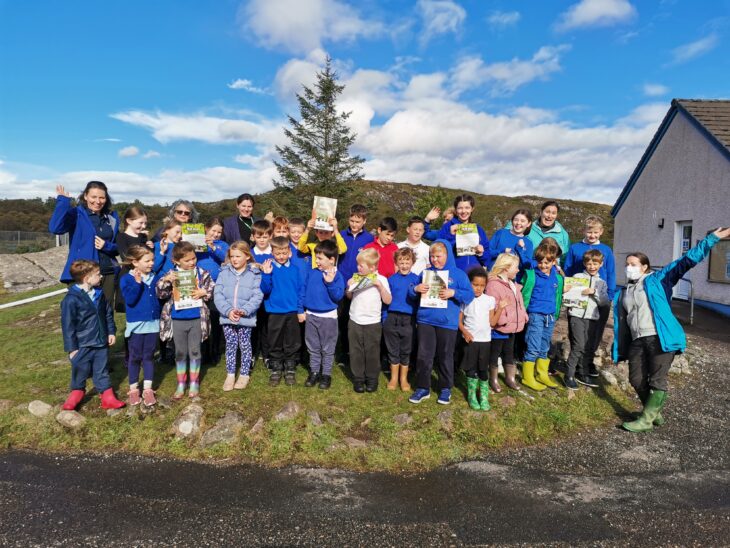 The CALLP Outdoor and Woodland Learning (OWL) project came to a close on 28 September, with CALLP Education Managers Kat Martin and Fiona Saywell presenting local schools with copies of the Outdoor Learning Guides which they have produced to help support teachers to deliver outdoor learning themselves in the future.
It was a fitting end to the project that has always aimed to encourage teachers to recognise that the outdoors is a great place to deliver learning experiences, as well as helping with wellbeing and health.
The Guides are a culmination of all the experience gathered by the pair over the past five years. They include details of local suitable outdoor learning sites, health and safety information and equipment needed, and the handover coincided with the launch of the online Learning Zone. The guides and Learning Zone, which can be found on the CALLP website, compliment each other, with the former offering practical information and latter offering activities to undertake in these areas. The Learning Zone also give details of equipment available to loan to help deliver the activities.
This is part of the legacy work of the OWL project to support the continuation of outdoor and woodland learning in the area. Other support has included CPD training for teachers, both delivered in house and through funded places on Woodland Activity Leader Training delivered by Wild Things!. The project has worked with nine nursery, primary and high schools in and around the Coigach & Assynt area
A teacher on a recent a recent CPD session commented: "I absolutely loved the CPD session and spoke about it on our in-service day with the other teachers, who also enjoyed learning about it. The session was broken down and explained very well and I would feel comfortable teaching the same lessons myself with a group. Kat had some great ideas and I really liked the differentiation and additional activities that you could do."
Commenting on the end of the OWL project, Kat Martin said: "It's been an emotional time drawing to the end of the project, but it's heartening to know we are leaving the outdoor and woodland learning in incredibly capable hands. Lochinver and Achiltibuie nurseries and primary schools have an amazing team of teaching staff who are continuing the outdoor learning sessions onwards and upwards. It was lovely to pop into Lochinver Primary School for the handover of the guides and say a final thank you and goodbye to everyone. It's encouraging to witness the legacy of the project firsthand and know that the collaborative working and our contributions within it have been meaningful and impactful".
You can find out more about the OWL project in their Bringing Learning to Life video, which summarises the work and achievements of the project over the past five years.
---
Sue Walker