Open call for Coigach Visual Artist in Residency
, by Coigach & Assynt Living Landscape
Coigach Community Development Company is inviting visual artists to apply for a new Coigach Artist in Residency as part of a wider CALLP project they are working on. Together CCDC & CALLP have built paths, restored historic buildings, commissioned oral history projects, supported young people playing and recording music, and are currently working on a project to design a heritage trail for Coigach and Assynt. Now The Coigach and Assynt Collection aims strengthen the relationship between the people of the two communities.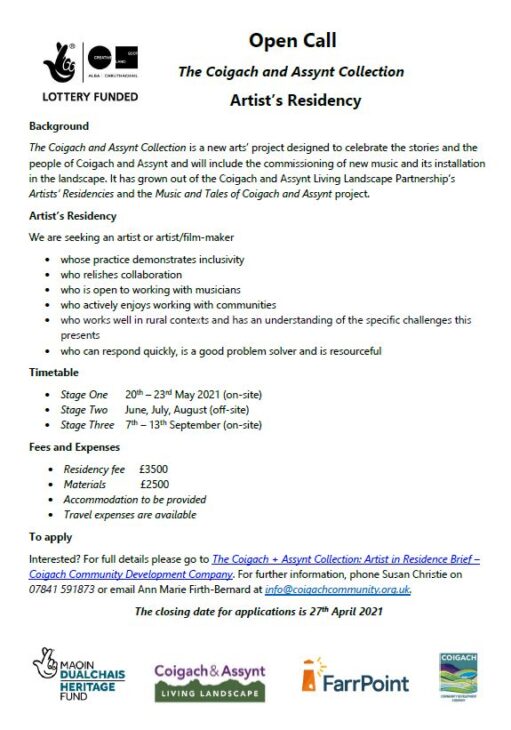 This new residency sits within a wider project called Music and Tales, which highlights a sense of place and celebrates the stories and people of the area with new music being commissioned, which will be installed in the landscape. CCDC has been awarded £37,878 by Creative Scotland to deliver this innovative and wide-ranging community-focussed arts project to celebrate the landscapes and culture of Coigach and Assynt.
The Coigach & Assynt Collection is part of a wider project developed within the National Lottery Heritage Funded Coigach & Assynt Living Landscape Partnership Scheme. The work has also been funded by the Garfield Weston Foundation, KMF Maxwell Stuart Charitable Trust, and supported by the Scottish Wildlife Trust.
The Coigach & Assynt Collection will develop a programme of new and connected works – music, performance and interdisciplinary work – which will be generated through a process of creative collaborations with a high level of community engagement. Sound and visual installations will be set in a series of special sites in the unique landscape of the area. The project will involve:
A series of guided walks in small groups with key community members highlighting and animating different aspects (ecology, rare flora, archaeology, food foraging, old-style ceilidhs, and stories from different eras, hearing tales from elder musicians/composers in the communities);
Micro-residencies (for musicians) to have concentrated time to be immersed in the places and building connections within communities;
Collaborative groupings to create new work;
A visual artist-in-residence – digital, film, projection and collaborative experience;
Performances in unusual spaces – boat and wood-sheds, horseboxes;
Recorded work to be used for installations in the landscape along a series of sites;
Hands-on opportunities – workshops, mentoring, training sessions (for community & artists);
Gigs recorded and streamed to share with local, national and international audiences.
The main objective of the project is to support new creative collaborations; develop and extend arts audiences, actively engage local communities, and galvanise them into rediscovering their landscape.
If you are interested in finding out more the full brief is available on the Coigach Community Development Trust's website at
The Coigach + Assynt Collection: Artist in Residence Brief – Coigach Community Development Company.
---
Coigach & Assynt Living Landscape