mince pies and……gin?!
, by Coigach & Assynt Living Landscape
I attended my first main event as the new tree nursery outreach officer at the Lochinver craft fair on the 7th and 8th of December.  Amidst the smell of mulled wine and mince pies, the Christmas wreaths I made were very popular:  in fact I sold 19 wreaths and I had to make more after the first day as I had nearly sold out! The craft fair was an ideal opportunity to start my new role as outreach officer and advertise the events that will be taking place in and around the tree nursery. People played a leaf-matching game while admiring the hand crafted birch spoons on display. The questionnaire form proved a useful way to gather feedback and this is essential so that I can tailor events to what people really want.
The requirements of my post, as well as growing lots of trees, will be to promote sustainability, health and well-being and people's involvement in CALL.  This will be achieved through educational events and craft days involving children, the less-able and hopefully reaching all sectors of the community.
I will be offering basket-weaving courses using locally sourced willow, wood carving workshops using local hardwoods, guided walks, volunteer days, training including woodland management skills training, work placement opportunities and a hazel celebration day involving the recent charcoal finds from the Sronchrubie burnt mound excavation: hazel planting, hurdle making and eating nutella!
I was really pleased that at the craft fair, 16 people signed up to take part in craft events.  Events kick off this week with an expedition to gather juniper berries on Thursday 13th December, meeting at 9:30am at Clachtoll Beach Carpark.  Why not come along? Contact me for more details: rgarnett@coigach-assynt.org
Romany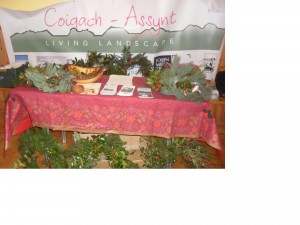 wreaths and bowls on the CALL table at Lochinver Fair
---
Coigach & Assynt Living Landscape